Fostering Financial Inclusion with Mobile Banking – African Development Bank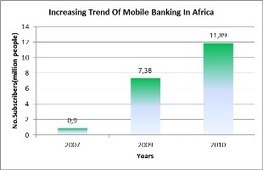 The annual growth rates of mobile phone penetration in the developing world have ranged between 30% and 50% or higher, and penetration has been…
GIBS Information Centre / GIBSIC's insight:
Inclusive market penetration – mobile :
Kenya and South Africa, at the forefront of Mobile Banking
Only 19% of the adult population in Kenya has access to a formal bank account, and banking services in Kenya are largely restricted to urban populations. Cellular operators have designed an ingenious way to provide financial services to rural populations in remote areas. In 2007, Safaricom, a national mobile telephony operator, at the time a subsidiary of Vodafone, introduced M-Pesa: 'M' standing for Mobile and 'Pesa' for money in Swahili. This revolutionary service enables money transfers between mobile phones via SMS, from the most rudimentary mobile phone.
See on www.afdb.org