South African Bekker Becomes Billionaire With China Media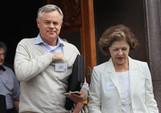 Jacobus Petrus "Koos" Bekker became a billionaire earlier this year after transforming Cape Town, South Africa-based Naspers Ltd. from a decades-old print business into the world's largest emerging market media company.
GIBS Information Centre / GIBSIC's insight:
China – Africa :
" The Potchefstroom, South Africa-born Bekker focused his thesis at Columbia Business Schoolin the 1980s on pay-television businesses, such as Time Warner Inc. (TWX)'s HBO, then an emerging business model. – In Sub-Saharan Africa, Supersport is the largest broadcaster of soccer matches in Africa, according to Horn, a boon in a region with millions of fans, including Bekker, who was a member of South Africa's 2010 FIFA World Cup organizing committee. – After graduating from Columbia in 1984, Bekker returned to South Africa, where he recruited several media companies, including the Naspers publishing house, to serve as one of the founding shareholders of M-Net, a pay-television company.
M-Net sold shares on the Johannesburg Stock Exchange in 1990, and was delisted and consolidated under Naspers after Bekker was named CEO in 1997.
Emerging Markets
Four years later, Bekker made one of his early emerging market investments, buying half of Shenzen, China-based Tencent, now the country's biggest Internet company, for $32 million."
See on www.bloomberg.com