How new airline routes are reshaping the world / CNN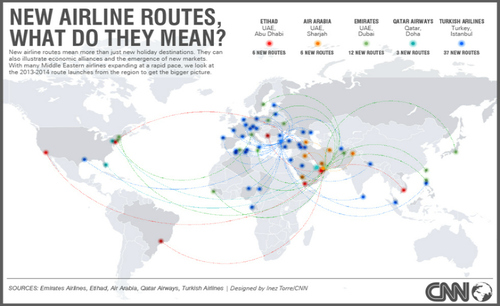 New airline routes outline more than new holiday destinations. They can point to emerging markets, too. What 2013-2014 route launches tell us about the world?
GIBS Information Centre / GIBSIC's insight:
Airlines – investment Africa:
"Tapping Africa – In just a couple of years, Turkish Airlines has become the largest international carrier in Africa, flying into 39 destinations. At first glance, some of the African cities in their network might seem random — why fly to Somalia?
They're really starting to shake up the U.S. market for the first time
Brendan Sobie, Centre for Aviation.
Their business plan underlines investment strategies for Turkey as a whole. According to the Center for Aviation many of the countries they serve, or are planning to serve, have a rapidly growing economy. In 2012, Rwanda's
GDP grew by 8%
, and
Nigeria's by 6.6%
. The continent also houses a wealth of natural resources.
"The most important geographic part of the world over the next 100 years will be Africa. In this respect, any destination (we fly to) in Africa will create more effective results than, say, a destination in Europe," says Ali Genc, Turkish Airlines' senior vice president of media relations".
See on edition.cnn.com