How Big Are Emerging Markets? – Sizemore Insights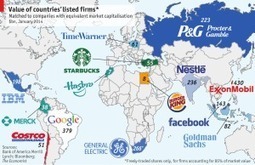 Graphic: Comparing emerging markets to Western companies by market cap.
GIBS Information Centre / GIBSIC's insight:
market size, Economist – "South Africa (EZA)–which is one of my favorite markets for the next decade–has a market cap about the size of General Electric (GE), the sixth-largest publically-traded company in the world with a market cap of over $260 billion. For a country of South Africa's population size (a little over 50 million people) and level of development (per capita GDP of about $6,000), that represents a high level of market depth and sophistication. Compare that to Egypt, which has a market cap on par with Burger King (BKW) at less than $8 billion.
See on charlessizemore.com